I love to bake, cook, work with recipes. It is something that really relaxes me and I just enjoy making yummy things for others. I'm taking a staycation this week and half so one of the things I'm doing for me is to bake items that I've wanted to do to try out for the school year, gatherings, and yummy eats. Sometimes when I'm so busy I don't have time to bake or try new recipes during the week and during the fast pace school year I have to prep for the majority of the week on Sunday and go go go!
Today's adventure in baking is a Cinnamon Quinoa Bake. I'm a huge fan of pinterest (
here
is my quinoa board) and finding recipes and I have quite the board! Recently I've been collecting quinoa recipes to try to enhance my love for quinoa which is hard cause I love it so much already!!! I also wanted to see the versatility with this product. I've made muffins, quinoa mac and cheese, and others so this is just another adventure in quinoa.
Here is the link to the recipe:
http://www.fitsugar.com/Cinnamon-Quinoa-Bake-21799042
Here is the recipe:
INGREDIENTS
2 1/2 cups quinoa, cooked and cooled
4 eggs, beaten
1/3 cup vanilla soy milk
1/3 cup maple syrup (optional)
1 teaspoon vanilla extract
1 tablespoon cinnamon
DIRECTIONS
Yields nine to 12 bars
1. Preheat the oven to 375ºF and place the quinoa in a large mixing bowl. Line an 8-by-8-inch baking pan with lightly greased parchment.
2. In a small bowl, whisk together eggs, soy milk, vanilla extract, and cinnamon until thoroughly combined. Add maple syrup (if using) and whisk.
3. Add egg mixture to cooked and cooled quinoa. Stir with a large spoon to combine. Pour into the parchment-lined baking dish and spread it around to ensure that it's even.
4. Bake for 20 to 25 minutes until set and golden.
5. Using parchment, remove bake from pan as soon as possible so that it doesn't steam.
6. Cool completely and cut into squares. Serve with a dollop of nut butter.

Melissa's Notes: I am going to alter this recipe a bit to work with my dietary plan. I am using almond vanilla soy milk plus (5 grams of extra protein), sugar free syrup made with splenda rather than full calorie sugar on maple syrup and I'm not going to add extra peanut butter.


If you make the recipe full on without these alterations the recipe serves 12 and each square is 169 calories with 6.6 grams of protein. I'm going to go through and bake the recipe and re-run the recipe through the calorie counter recipe analyzer.
My review for this recipe is that it is really bland. Not enough flavor for this gal, but the consistency is great. I drizzled some sugar free syrup over the bar I cut and it was just the right sweetness and flavor that I wanted. I would most likely add some sugar or honey to the recipe, more vanilla, and more cinnamon. I just like to have the flavor that isn't over powered by quinoa.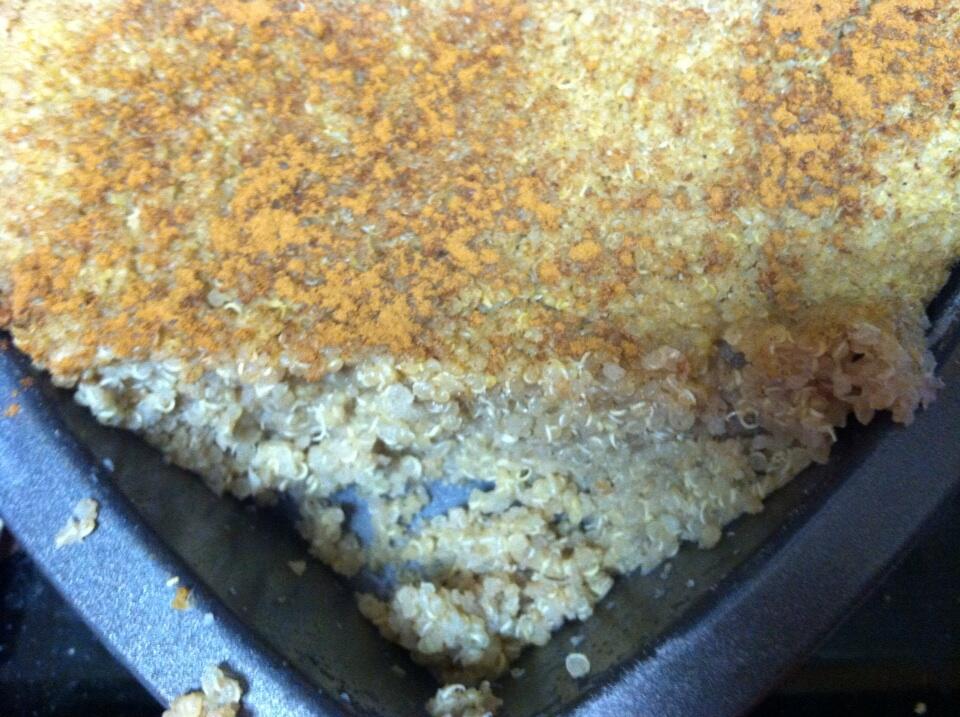 Picture of the cut in of the bake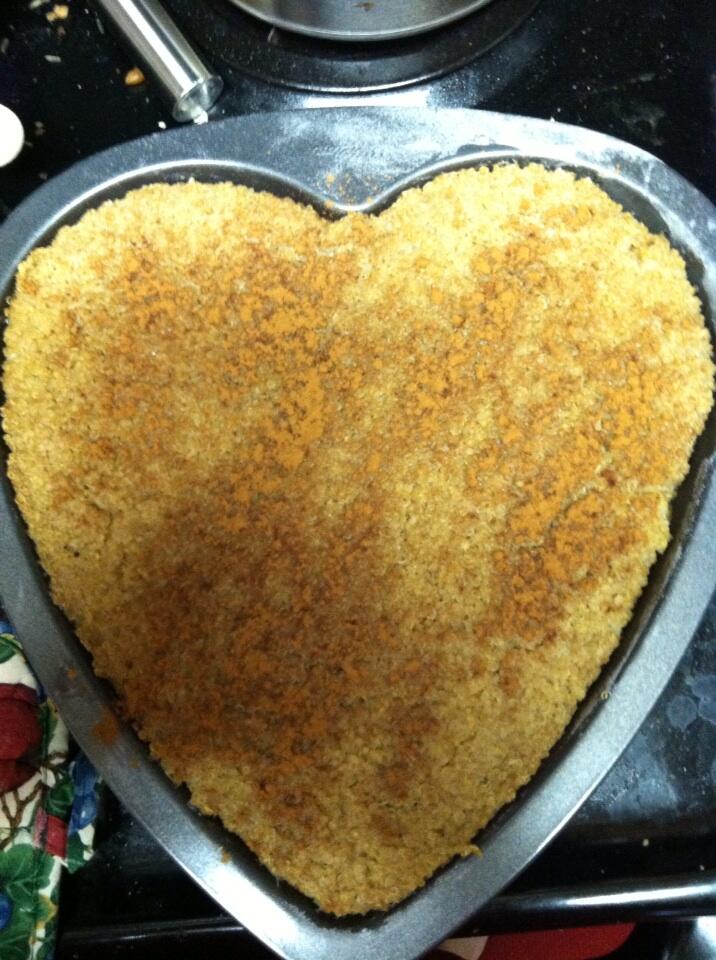 Quinoa Cinnamon Bake complete