I'm joining with Cassie over at http://www.livelaughl0veblog.com and her link up for the holiday season every Tuesday through the season. I'm uber excited to see this on my twitter feed this morning for multiple reasons 1) I needed a distraction from life and 2) I adore no I love nope I'm obsessed with the holidays.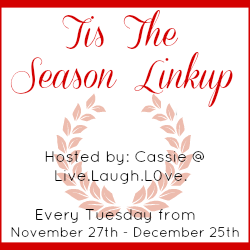 I love Christmas. I always have and always will. I like the magic of the season, I love making things for other people, and I adore wrapping presents, seeing the lights, and spoiling others. Oh and cooking...baking...food - can't have the holidays without all of that.
We've never had a super huge big holiday feast or big holiday deal that was over the top, but the traditions we have are special to me and I've been able to bring them into our marriage. The Bettis' are staring their own traditions and it has been something I've been wanting to start since we got married 3 years ago. What I didn't realize is that my husband didn't come from a lot of traditions so it seems weird to him, but he is being a really good sport about starting our own. We already have one and that is going to the Gaylord ICE exhibit and that started in TN we are lucky enough to live by another Gaylord facility so we will be attending ICE this year as well.
In 2012 the Bettis':
put up our tree the day after Turkey Day
bought holiday pjs ( just like my mom used to do for me!)
decorated our mantel
I love our tree! It is one of the things that I look back on and know as a child that I loved sitting in the living room in the dark watching the lights flicker. I used to spend hours with my mom as a young child watching the lights. Even as an adult my mom would let us put the lights on the tree, decorate it, and we would turn off the lights and just watch it glow. There is something serene about the tree...the lighting...the star. I'm in love with my tree.
I will also leave you with a friendly WLS friendly holiday recipe that I got from my support group!
Creamy Pumpkin Mousee
1 can pumpkin puree not pumpkin pie - 15 oz
1 4oz cup of snack pack vanilla sf pudding
2 cups of sf, reduced calorie cool whip
1/2 cup of skim milk - i used light vanilla soy
1 tsp of cinnamon
3 packets of splenda
2 tsp of pumpkin pie spice
Mix all together and put in the fridge. Serving size is 1/2 cup and serves 4 - I think it serves more but it is 149 calories for a 1/2 cup with 2 grams of protein and 8 g of sugar