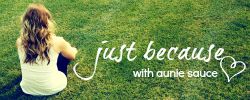 This year to celebrate my 31st birthday I decided to create a list of 31 things to accomplish. You can read about my post
here
and I've been able to do a few updates
here
and
here
and
here
(enjoy checking them out) so instead of posting a boring old list this week and it being Just Because Friday I'm celebrating accomplishments with a Picture Post of things accomplished on my list :-)
I keep my 31 things list in my office @ work! I love to check things off my list (in pink!)
#18 -Diplomas framed and hung in the office ( I didn't like the hung picture this much prettier!)
Examples of what's on my etsy shop!
# 9 - Bought tickets to a Pro Sporting Event - We are off to see the TX Rangers & support
the Frogs for the Cure TCU Fundraiser for Breast Cancer (more pics to follow!)
# 23 - Overhauling my Wardrobe to be more "Grown Up!" - I really do need a photo shoot!
31 Things to do In Progress
My Walk is October 28th with the Walk for Obesity in Dallas, TX
I'm walking with the BBGC - check out their facebook page
http://www.facebook.com/#!/groups/bbgirlclub/
Thank You fit bit for keeping me motivated to walk, walk, walk....oh and walk some more!
#15 - Have a
spa day
- will be occurring this weekend thank you to the bestest friend ever!
#27 - Print my blog for me to keep by professionals - still searching for the perfect price!
#26 - Get professional pictures taken - Need to schedule this in October!
Here is the list of things I wanted to accomplish this year:
Read 31 books (8 done = 23 to go!)
Ride a roller-coaster
Get my belly button pierced
Reach my WLS goal weight
Complete a 5K
Sew a quilt
Create a family Christmas tradition
Take a pottery class
Buy tickets to a pro sporting event
See Celine Dion in Concert
Organize all my pictures into photo albums
Learn to shoot a gun
Take a belly dancing class
Buy an outfit that makes me feel sexy
Have spa day: facial & massage included
Bake an apple pie from scratch
Go camping
Get my diplomas framed—FINALLY
Host a Harry Potter themed dinner party
Take a romantic vacation
Buy myself a right hand ring
Get a passport
Overhaul my wardrobe to be grown up
Open my crafty etsy shop
Share a beach sunset with the love of my life
Get professional pictures done
Print my blog about my WLS professionally
Start to learn a new language
Take a dance class
Attempt the Rock Wall at the Rec

Learn how to can